Articles
Categories
Posted by Dylan Jacob on
Nobody could deny that wine is truly a wonderful thing. It's been a constant companion throughout human history, right from its humble beginnings in prehistoric Georgia and Armenia, right the way through to the trendy wine bars of downtown Brooklyn, Berlin, or Brisbane. The ultimate expression of fruit and the land on which it grows, it's beautifully simple, eye-openingly complex… and utterly delicious at the same time.
Posted by Aleks Flom on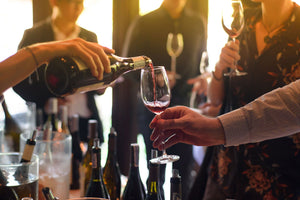 For wine lovers, few things could be more enjoyable than an evening sampling a well-curated list of bottles, each filled with the good stuff and chosen for their flavours, aromas, and character. What better way to do this than by throwing a wine tasting party?
Posted by Aleks Flom on
Let's all stop for a moment and give thanks to wine. It's a truly wonderful drink, constantly surprising, endlessly satisfying, and something which has been giving pleasure to mankind for a phenomenal length of time - literally tens of thousands of years.Those who make our bottles of vino are no mere drinks producers. They're craftspeople, artists, holders of techniques, secrets, and refined expertise that is often passed down from generation to generation across the centuries
Posted by Aleks Flom on
Who doesn't love a pool party? They're the perfect way to get your friends together, let your hair down, and enjoy some real fun in whatever remains of the year's sunshine. Effortlessly relaxed, accompanied by great tunes and even better company, a good pool party is a thing of real beautiful, sophistication, and laid-back style.
Posted by Aleks Flom on
What could be better than throwing your own California style wine and cheese party? Especially at this time of year - when the cold weather starts rolling in and we begin bracing ourselves for the long retreat indoors - it's the ideal way to make those summertime vibes stretch out just a little longer.